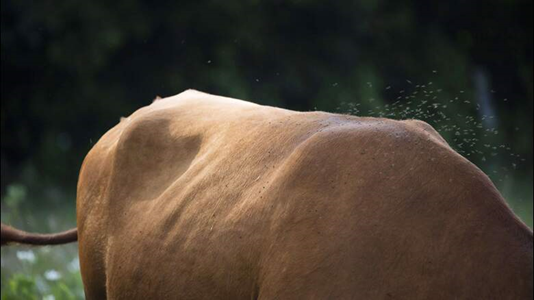 Don't Fall Behind: Late Season Feeding 101
While the fall season is quickly approaching and colder weather is near, it's critical to continue late-season feeding of Altosid® IGR to prevent the emergence of overwintering flies. Come spring, you'll be glad you did.
Fly activity is influenced heavily by weather, with active fly presence lowering as the temperatures drop in fall and pupae begin to overwinter. The following spring, the warmer temps mark the start of fly season when overwintering horn flies start to emerge, ready to feed on cattle with painful bites and spread disease-causing bacteria.
To achieve the best results with Altosid® IGR and limit horn flies on cattle, we recommend following the 30/30 approach. The 30/30 approach helps account for the variability in weather patterns to maximize control of overwintering fly pupae. These overwintering flies will be the first to emerge once the weather warms, jumpstarting fly populations in the spring. By feeding later into the fall, you can limit the total number of overwintering flies. Once spring arrives, an earlier start to your fly control program protects against temperatures warming earlier than you anticipated, putting you behind schedule right from the start of your fly control program.
Get started with the 30/30 approach with these 3 easy steps:
Know when to start feeding Altosid® IGR, which is approximately 30 days before the average daily daytime temperatures reach 65°F. This is when overwintering flies emerge.
Continue feeding Altosid® IGR through the fall, 30 days after the first frost has been recorded. This is to help reduce overwintering pupae, giving you a jump start on the next fly season.
Implement a comprehensive integrated pest management (IPM) program that includes biological, physical-mechanical, and cultural efforts to reinforce your fly control.
To learn more about our recommended approach to horn fly control, download our 30/30 White Paper.