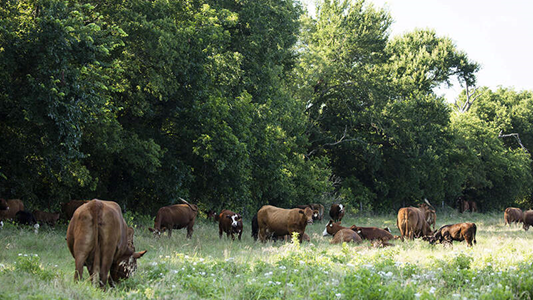 Increase Cattle Comfort with These Four Grazing Tips
With weather warming up, the needs of beef cattle on pasture are changing. Winter windbreaks will no longer be the place to hang out (unless they double as summer shade spots), so cattle will have different requirements to remain productive.
Cattle ranchers can improve grazing systems through small changes that result in increased cattle comfort and production, as well as more efficient feeding. From a rotational grazing plan to fly control for cattle, follow these four tips for grazing to improve cattle comfort.
Propose a Plan
As with anything on an operation, cattle ranchers should have a plan. Map out your grazing season to have a rotational grazing plan that best utilizes paddocks. Any plan on your operation should remain adaptable and flexible to accommodate factors that are out of your control such as weather. Changes to the grazing plan should be made with overall ranch goals in mind.

Cool Cattle
Give cattle the option of relaxing in the shade as spring changes into summer. This keeps the animals at a comfortable temperature which will increase cattle feed efficiency as they won't have to spend as much energy cooling down.

Along with offering shade, prevent cattle overheating by working them early in the morning or later in the day. Not only will this keep you and your workers out of the midday sun, cattle body temperatures will remain more consistent as they will be able to find shade during the warmest part of the day.

Water Weight
Water helps absorb the nutrients within feed, making water crucial to weight gain. Water should be readily available for cattle because as temperatures increase, cattle water intake needs will rise. Water containers are best placed in the shade and near where cattle are grazing.

Preventing Pests
Have a plan for flies and other pasture pests in place before pest season kicks off. The best fly control on pasture begins with preventing the pests before they become a problem using the 30/30 method. Begin using a feed-through fly control product like Altosid® IGR 30 days before the start of fly season and continue using product until 30 days after the first frost to manage overwintering flies. Controlling flies on cattle keeps the animals comfortable, prevents diseases and improves cattle weight gains. In a recent study, it was shown that cattle treated with Altosid® IGR experienced a 15.8% increase in average daily gains compared to cattle who went untreated.
Altosid® IGR controls horn flies by interrupting their life cycle, rather than through direct toxicity. The insect growth regulator (IGR) in Altosid® IGR keeps horn fly pupae from developing into adult flies that would otherwise emerge from the manure. Fly control in cattle feed eliminates the expense, labor and stress on your cattle associated with other fly control methods. Learn more in our product brochure.